Loop One technical details

Loop One uses best in class technology
Efficient, reliable and secure
Loop One smart sensor is designed and built on technologies that are low power, reliable and secure with sustainability in mind. There are top quality sensors inside Loop One that help reliably measure the key indicators of indoor air quality and monitor the environment. Multiple sensors cover all relevant data that is needed to get comprehensive knowledge of indoor air quality and detect common pollutants from the environment.
Loop One includes multiple sensors
Senses
CO2

Measurement range: 400 ppm to 10.000 ppm
Accuracy: ±30 ppm
Humidity range: 0 % to 95 %RH
Temperature range: 0°C to +50°C

TVOC

Range: 0 to 60000 ppb
Accuracy: ±15% (humidity compensation included)
Temperature range of -40°C to +85°C
Humidity range of 10 to 95% RH

PM

Mass concentration range: 0 to 1000 μg/m3
Mass concentration resolution: 1 μg/m3
Mass concentration accuracy: 0 to 100 μg/m3 ±10 μg/m3
PM1.0 range: 0.3 to 1.0μm; PM2.5 range: 0.3 to 2.5μm;
PM4 0.3 to 4.0 μm; PM10 range: 0.3 to 10.0μm
Temperature and humidity range: -10°C to +60°C and 0 to 95 % RH

Temperature & humidity

Relative humidity range: 0% to 95%
Accuracy: ±0.2% Temp /±2% RH
Temperature range: –40°C to +85°C

Air pressure

Pressure range: 300 to 1100 hPa
Relative accuracy: ±0.12 hPa (~ ±1m)

Ambient light

High accuracy UV index sensor that matches erythermal curve
Ambient light sensor <100 mlx resolution possible

Sound

Sample rate: 6.25 to 51.6 kHz (24-bit)
Sensitivity: −26 dB (FS ±1 dB)
SNR: 65 dBA
Acustic overload point: 120 dB (max SPL)

Motion

Three-axis linear accelerometer (dynamic 2g/±4g/8g/16g scales)
Measuring accelerations: output data rates from 1 Hz to 5.3 kHz
6D/4D orientation /free-fall /motion detection (16-bit)
Temperature range of -30°C to +55°C
Humidity range of 0 to 90% RH
Loop One uses reliable and secure communication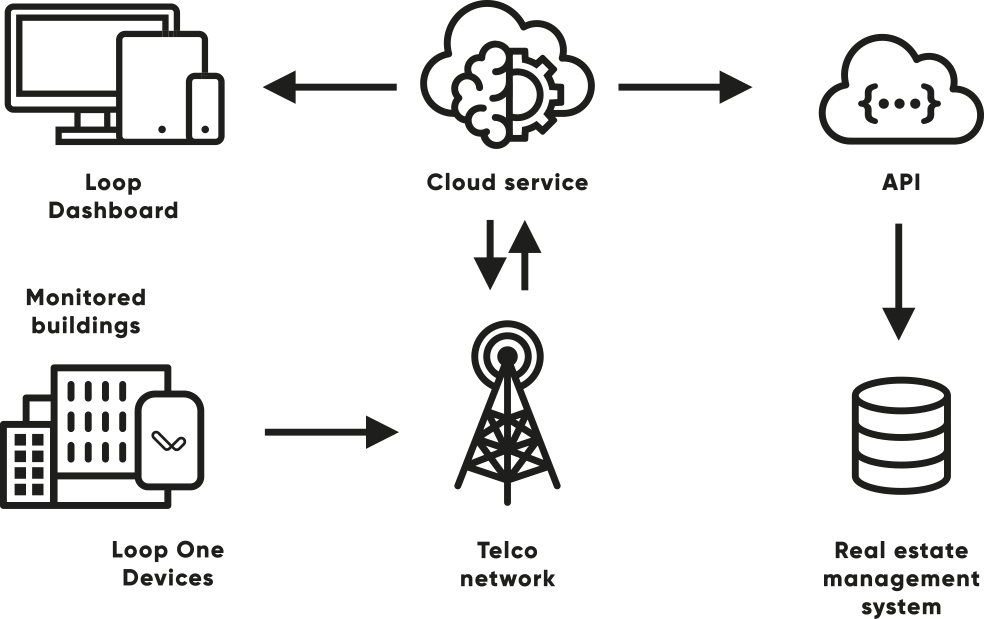 Measurement data is securely stored and sent by the Loop One device over cellular LTE network to our cloud service that provides comprehensive indoor air quality status to users on mobile, tablet or computer display.
Loop One is efficient and low power
The radio features of Loop One are built on top of the Nordic Semiconductor's nRF9160 low power SiP with integrated LTE-M/NB-IoT modem and GPS. Incorporating an Arm Cortex-M33 application processor solely for applications, a full LTE modem, RF Front End (RFFE) and power management system – nRF9160 is one of the most compact, complete and energy-efficient cellular IoT solution on the market.
Communication & Computing
NB-IoT / LTE-M

Nordic semiconductor nRF9160

Security

Security with Arm Trust
Zone technology Arm CryptoCell

Device Management Support

LwM2M – protocol support Device settings
Over The Air updates Monitoring
Diagnostics and logs
Radio conditions
Battery status
Device history
Device location

Sustainability

Material selection
Battery longevity optimization
Designed to last

GPS

Integrated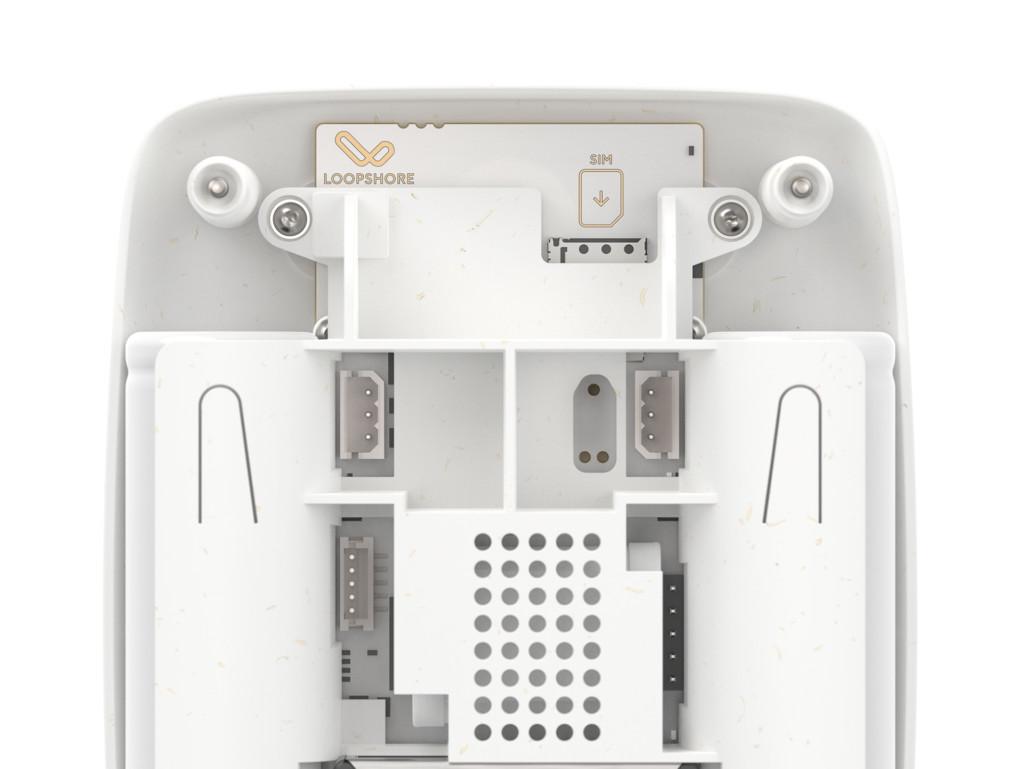 Security is best-in-class with Arm TrustZone technology for isolation and protection of normal and secure zones for firmware and elements of hardware including memory and peripherals. Arm TrustZone enables solid and secure ioT applications that feature secure boot, trusted firmware updates and root of trust implementations without performance compromise.
Arm CryptoCell enhances device security still further by offering cryptographic and security resources to help to protect IoT applications from various attack threats. In addition, common security measures are naturally used by Loop One on data transport level (TCP/TLS). Network communication is secure and based on strong security mechanisms of the mobile LTE network. The measurement data is stored securely into a cloud service for smart analysis and user-friendly presentation.
Loop One provides excellent coverage and cost-efficiency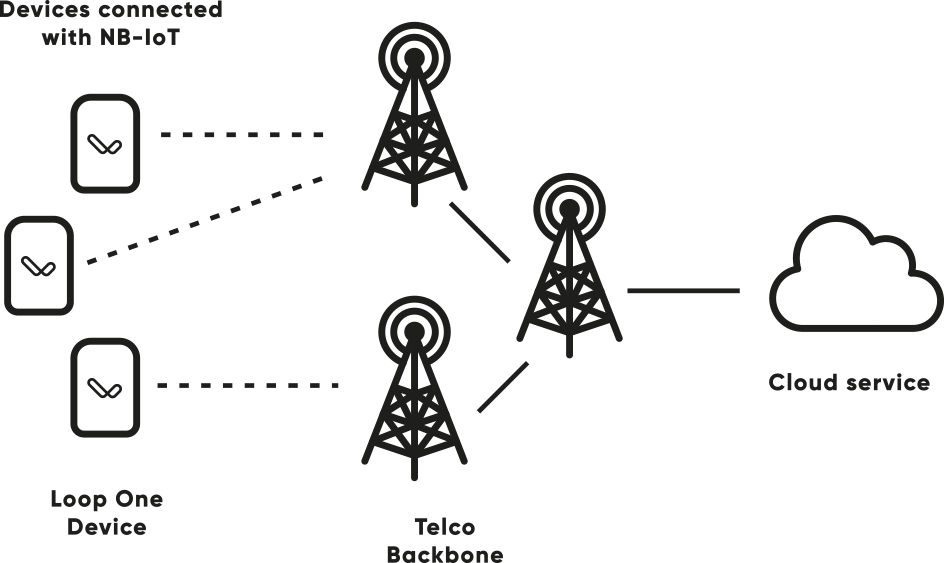 Loop One uses the licensed radio technology of existing LTE cellular networks that guarantees a cost effective, reliable, and low power solution.The nRF9160 used inside Loop One supports both SIM and eSIM for connection and authentication with mobile network operators. LTE bands B1, B2, B3, B4, B5, B8, B12, B13, B14, B17, B18, B19, B20, B25, B26, B28 and B66 are supported and have been also certified so far.
Loop One uses NB-IoT with radio, which is the best in class-leading Low Power Wide Area (LPWAN) technology, addressing the LPWAN requirements of the Internet-of-Things (IoT).
NB-IoT is characterised by: excellent indoor coverage, support of a massive number of connections, cost efficiency, low device power consumption and optimised network architecture. NB-IoT penetrates deep underground and into enclosed spaces providing 20+dB coverage indoors. NB-IoT also offers well enough bandwidth for devices sending and receiving data, 24 kbps DL /15.625 UL, which is important to Over-the-Air (OTA) upgrade feature, for example.
The underlying NB-IoT technology offers the same tried and true security and privacy features of LTE mobile networks, including IoT device support for: user identity confidentiality, entity authentication, data integrity, and mobile device identification.
Long-lasting and rechargeable
We guarantee 6 months of continuous operation with a single charge.
Bio-based Loop One covers
We are manufacturing Loop One smart sensor's covers out of injection moldable biocomposite. This means that up to 50% of the cover material consists of locally sourced timber. This new and sustainable material guarantees technically excellent parts that are not only durable and precise, but also environmentally friendly and soft to touch.